Your Guide to Choosing the Best Office Flooring for Your Fit Out Project
Eco-friendly flooring for the office
Eco-friendly flooring falls into two categories:
Flooring made from sustainable materials
Flooring that has be reclaimed from previous projects
One of the best sustainable flooring options for the office is actually carpet, as many carpet manufacturers focus on creating highly sustainable products by incorporating recycled elements.
There are a number of brands that manufacture sustainable carpet for offices:
Milliken focuses on using recycled materials in place of oil-based components in its products. It also specialises in minimising waste through its manufacturing process. Milliken's sustainable carpet uses ECONYL®, a 100% regenerated nylon that includes 50% post-industrial and 50% post-consumer recycled content. The company also uses 90% recycled polyurethane to manufacture Comfort Plus®, a lightweight carpet tile backing material.
Desso has an innovative Take Back™ programme where the company takes back worn out carpet tiles, with many of them recycled into new carpet products. The initiative is part of Desso's ambition to follow the Cradle to Cradle® approach developed by Professor Michael Braungart and architect William McDonough. This philosophy aims to "create products that can be entirely recycled to provide the raw materials for new, identical ones, or are 100% biodegradable". Currently, 93% of Desso's commercial carpet tile range is Cradle to Cradle® certified.
Forbo Flooring manufactures a number of innovative products that feature recycled elements that are not necessarily recycled from carpet. The Coral entrance flooring collection features backing made from recycled soft drink bottles and the carpet itself is made from ECONYL®, which is 100% regenerated polyamide made of everything from old carpets to fishing nets.
Interface prioritise finding alternatives to petroleum-based products as part of its Mission Zero goal to eliminate the company's negative impact on the environment by 2020. One of its many initiatives is ReEntry® which involves separating carpet from the backing, meaning more of the product can be recycled into new nylon fibre.
The other option for eco-friendly flooring is reclaimed flooring. This comes in many forms and can include reclaimed carpet tiles, where existing floor tiles have been reused in a new fit out or used alongside new floor tiles to create a more interesting look. Dale Office Interiors used a combination of reclaimed and new carpet tiles when fitting out Visualsoft's offices, to create a more exciting aesthetic.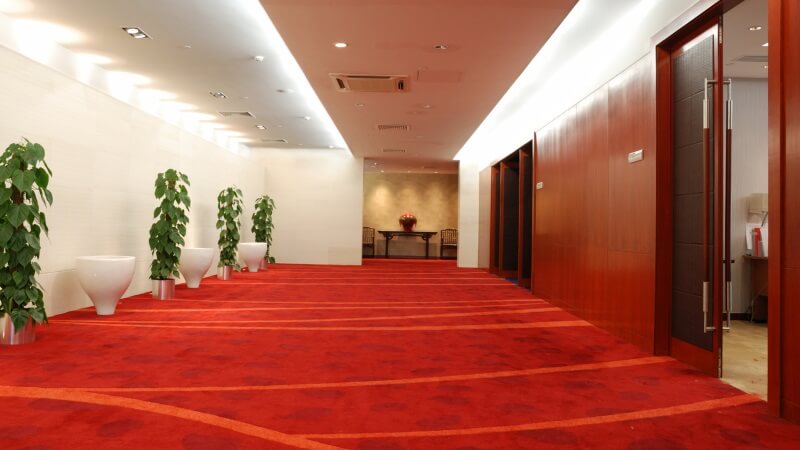 Contemporary office flooring
Polished concrete is an increasingly popular flooring option for office spaces, particularly for reception areas, canteens and corridors.
Patterned vinyl is another option that is a good choice for the desk area of an office, as it's warmer than concrete. There are multiple designs and colours available for vinyl flooring and it is highly durable and relatively easy to install.
Carpet tiles are available in many different styles and the high-quality finish offered by many brands means they can stand up to everyday wear and tear in the workplace, even where there is high footfall. Some brands, such as Milliken, manufacture carpet ranges specifically for busy entrance ways utilising technology that actually protects the internal carpet from dirt and moisture.
There is an abundance of colours and designs available for carpet tiles, so you will be able to find a style that suits your office. 'Tiles' doesn't have to mean squares either, as some manufacturers create 'carpet planks' such as the Tivoli range from Burmatex®, which are elongated tiles that can be configured into attractive designs including brick and herringbone patterns.
Tiles can also be used to create circular patterns too, such as the Draco range from Paragon Carpets, where large colourful circles are used to create an eye-catching look for boarders and breakout areas.
Affordable office flooring
Carpet tiles are the least expensive option for office flooring as they are cheap to buy (especially if you choose reclaimed carpet tiles) and easy to maintain. Also, only individual tiles need to be changed if damaged by wear and tear, rather than replacing the entire flooring area.
Carpet tiles are less expensive than regular carpet as they are easier to fit and create less waste when being installed.
You can find out more about choosing carpet tiles for your office fit out with our Office Carpet 'How To' Guide.
Flooring for high-traffic areas of the office
Reception areas and corridors receive a lot of foot traffic and need a highly durable floor to withstand the constant use.
Polished concrete is a stylish and extremely low-maintenance option for reception flooring. Slip-resistant finishes are available to avoid accidents in wet weather – it is one of the most heavy duty options available for office flooring.
Vinyl is another good choice for busy reception areas as it is durable and has a slip-resistant finish.
Carpet can be installed in high-traffic areas, provided an entrance barrier system is installed as well. These systems are designed to extend the lifespan of carpets and ensure they look as good as possible for as long as possible. The barrier system from Burmatex® features absorbent and scraper yarns designed to resist the transfer of dirt and moisture from outside the building to the carpet inside.
Specialist entrance flooring can also reduce slips and trips in busy entranceways by limiting the amount of moisture that enters a building. High-quality barrier flooring prolongs the life of the secondary floor finish and can reduce ongoing maintenance costs.
Common questions on office flooring fit outs
How do I protect flooring from office chairs?
Some office flooring materials, such as carpet and concrete, won't need protecting from office chairs as they are sturdy enough to handle the constant rolling of wheels.
Floors that may be of concern are softwood flooring, such as pine, but these wouldn't be recommended for a commercial setting as even heels can cause indents and marks.
The best two options for protecting flooring from office chairs are to swap hard plastic chair wheels with soft rubber wheels, and to fit a chair mat under each desk.
Which types of flooring have the best acoustic properties?
Carpet offers the best acoustic absorption properties for an office. However, where a hard floor surface is used as part of a design solution, other vertical and suspended acoustic solutions are used to compensate.
What are my flooring options for an office with a raised access floor?
Computer rooms, server rooms or offices with a lot of IT and communications equipment may be fitted with raised access flooring to enable easy access to cables underneath the floor.
Practically any floor type can be fitted to raised access floors; however, the loss of accessibility needs to be born in mind and access points designed into the scheme. Flooring tiles of most types of materials, including carpet, marble, vinyl or natural stone, enable sections of the floor to be removed with a panel lifter or a hook and loop lifter when the cabling needs to be accessed.
If carpet tiles are to be fitted, then the floor panels will usually be supplied without a finished surface. The steel surface of the panels can then accept carpet tiles. Alternatively, some companies will supply the panels already finished with the flooring option of your choice.
What is office epoxy flooring?
Epoxy is a type of flooring material made of resins and hardeners that form a durable plastic floor by bonding to the substrate. Epoxy flooring is incredibly strong, so it's a popular choice for high-traffic areas such as receptions, kitchens and canteens, especially as it's resistant to stains and spills.
The material can have a number of finishes too, including block colours, effects such as marble, pebble-dash, and even images like waves.
You can find out more about the options available for office flooring with our Office Flooring Pros and Cons Comparison Table.
To learn more about why carpet is a popular choice for office flooring, read The Office Carpet 'How To' Guide.
If you're looking for help and advice on updating the flooring in your office, speak to the team at Dale Office Interiors today on 0114 233 1115 or contact us here.
Feel inspired by the above? Just click on the buttons below to share it:
Want a better workplace?
We're fast becoming the go-to design and fitout company here in the north, helping facilities professionals like you think smart about your organisation's space. Click here to leave your details and we'll contact you.
Let's talk