How Partitions Can Improve Flexibility in the Workplace
Habit and routine can wreak havoc on creativity and collaboration in the workplace. Sitting at the same desk, next to the same people, day-after-day can stunt the creative process and impact on productivity.
So how can you avoid stifling your employees with prescriptive workspace design? Flexibility is the key. Giving employees a variety of different spaces to work and relax in the workplace can help improve productivity, as our original research has revealed.
Creating a flexible workspace with office partitions
Office partitions have come a long way in terms of flexibility since the cubicle farms of the 1980s and 1990s, where individuals were given their own square metre workspace which they rarely ventured from throughout the day. Now partitions are crucial in creating a flexible way of working that makes the most of the space you have available.
Why cubicle partitions don't work
Cubicle-style partitions and fixed seating can do more harm than good when it comes to sharing ideas and collaborating with different people. According to Ben Waber CE of Sociometric Solutions, a workplace communication analysis company, an employee's interactions with the person they sit next to at work accounts for 40% to 60% of every interaction that person has during the workday. A more flexible workspace with enable more interactions with a wider variety of people.
How partitions facilitate a flexible workspace
One of the main benefits of an agile work environment is that the space is 'non-personalised', meaning that employees become comfortable working in a variety of spaces, rather than at a set workstation.
This means that you can utilise workspace more efficiently as the space is more responsive to changes within the organisation, such as new starters, temporary staff or demands for different types of workspace layout at short notice.
For example, when everyone but a handful of employees has a dedicated desk, this can be inconvenient and unwelcoming to contracting staff. Doug Shaw, People and Organisational Development Consultant, shares his experience of not having anywhere to work on a project: "Aside from the time and inconvenience factor there's the fact that you don't feel part of a team, virtually or otherwise, because no effort has been made to integrate you."
Partitions are a quick and simple way to ensure that workspaces can adapt to changing demands, without the expense and hassle of permanently changing the workspace as requirements change.
There are a number of options to choose from for integrating partitions into your office space:
Glazed screens for the office
This type of partition is a hybrid between open and closed areas. A glass partition allows natural light to flood into the office and creates a much more welcoming feel than traditional solid partitions. Glass is available in both floor-to-ceiling partitions and desk-mounted partitions.
Desk-mounted partitions (also known as screens) are likely to have frosted glass, which provides more privacy at individual desk areas for quiet work or phone calls.
Floor-to-ceiling partitions with windows are used to create separate offices and conference rooms. While this traditional space might not be the first thing you think of with regard to agile working, having a dedicated space for more formal meetings and conferences will help to reduce disruptions for people working in open plan areas.
Portable room dividers
Room dividers differ from partitions in that they are not permanent fixtures, they are flexible dividers that can be moved to create more usable individual spaces within a large area.
Dividers with wheels are the easiest way to section off larger areas for meetings or private work. However, traditional partitions with wheels can make a space look dated so go for printed designs or partitions in your company's corporate colours for a smart, professional finish.
Alternatively, there are options available that add interest and texture to a workspace, such as the Focus collection from Zilenzio, which is also available in desk top screens.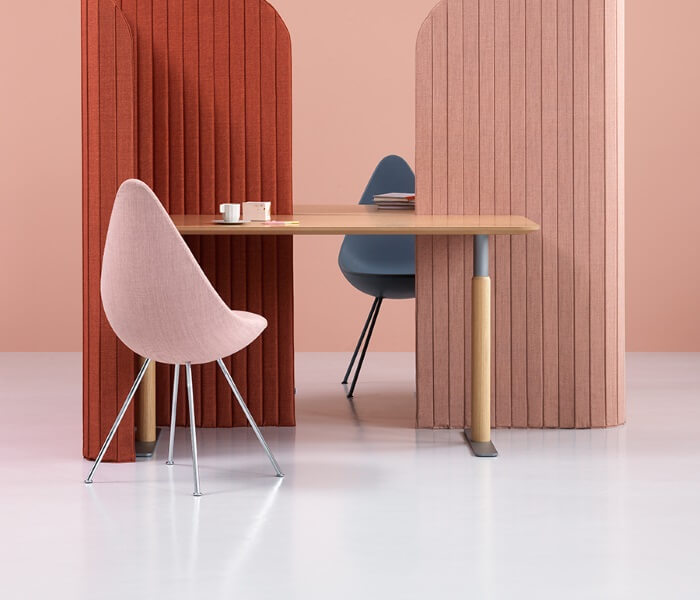 Focus collection from Zilenzio
Portable acoustic office pods are freestanding 'rooms' that create temporary private offices or meeting spaces. Google's London HQ has its own take on this with 90 modular pod-style meeting rooms (known as Jacks), which can be customised depending on the needs of the people using them.
The thought process behind installing these spaces was to avoid the mess and hassle of constantly refiguring space, as Ceri Davies, Associate Director of AHMM explains in Design Week: "…previous Google offices were forever having plasterboard stripped out to accommodate changing team sizes and room requirements. The Jack cassette system means that the rooms can be completely taken apart and reassembled by in-house maintenance staff within hours or days, saving both time and expense".
Desktop partitions
Open plan areas benefit from desk partitions as these can make desks look neater. They also create a practical solution for maximising privacy and minimising noise when room dividers aren't a suitable option.
Focus collection from Zilenzio
Portable desktop partitions can help to ease the concerns of any members of staff who are reticent to embrace agile-working, as individuals can use these screens to add a touch of personalisation to their workspace. For example, the Focus collection from Zilenzio includes textile screens that employees can take with them, wherever they choose to work.
Ceiling-hung desktop partitions create an ultra-modern look in an office and can include useful added extras, such as desk lighting, as in the case of the AK 2 Workspace Divider Lamp.
AK 2 Workspace Divider Lamp
Desktop partitions can also be attached to the side of the desk as well as the front. These help to define areas between workstations or create useful screens to hide desktop clutter. Diplomate from Pierre-Emmanuel Vandeputte is made of natural materials that help to diminish noise at busy workstations.
Diplomate from Pierre-Emmanuel Vandeputte
What next?
Installing a variety of temporary, flexible office solutions will give your staff greater control of how and where they work in the office.
For more information on the simple steps you can take to create a more agile workspace for your employees, contact the office design experts at Dale Office Interiors today. Call 0114 233 1115 or contact us here.
Feel inspired by the above? Just click on the buttons below to share it:
Want a better workplace?
We're fast becoming the go-to design and fitout company here in the north, helping facilities professionals like you think smart about your organisation's space. Click here to leave your details and we'll contact you.
Let's talk